Services
Greg Frick Landscape Design provides landscape and hardscape design, color rendering, 3D modeling and consulting to landscapers, contractors, developers, home builders and homeowners.
Design Process
Collaboration is the key to a successful design. After an initial interview where we collect site photos, the plat of survey and project descriptions, we prepare a landscape design that shows the relevant property including any site features which may impact the design. The completed design will show all proposed plants, planting beds, lawn areas and hardscape areas as applicable. By listening and focusing on your desires we can help create a sustainable design that adheres to your budget and will balance beauty with function.
Design fees are figured at a rate of $75.00 per hour. Most residential projects will take between 2 and 8 hours, with an average of approximately 4 hours. A specific time estimate is provided after a discussion about the project scope and details. A 50% deposit will get the design process started and the balance of the design fee is due at the design presentation or prior to emailing the final design file. For convenience, all major credit cards, such as Visa, Mastercard, American Express and Discover, are accepted.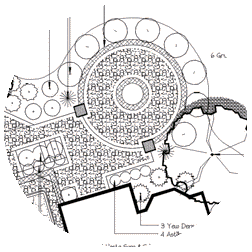 CAD Designs
The finished product is a top down, plan view of the landscape or hardscape with all proposed plants, planting beds, lawn areas and hardscape areas defined and labeled. This is a great start for simpler landscape ideas or the customer who can easily visualize the finished result.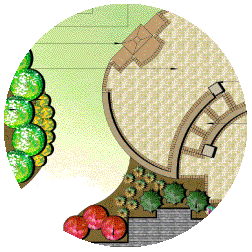 Color Rendered CAD
The next step in creating an easy to read and clear finished product. Customers appreciate the clear definitions of space and elements that a color rendered design provides.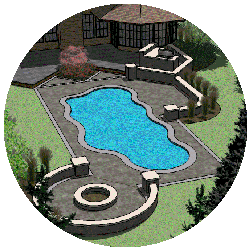 3D Modeling
The ultimate way to represent the visual of the finished project. A scaled model of the design can immerse the customer in the design space before any construction begins. Any viewing angle or a video animation can be created.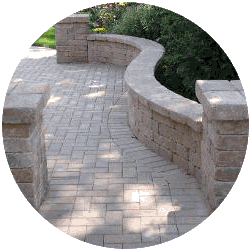 Industries
We service both residential and commercial clients. We're timely and professional.
Greg is extremely creative; his designs are always original and fit the space perfectly. With the help of Greg's designs I have won several awards for best overall Landscape and best patio. I would recommend Greg to anyone without hesitation.
Thank you! For real. Easy to work with you. I'm going to introduce you to my friend.